PHILADELPHIA, March 14, 2017 – The National Lacrosse League (NLL), the largest men's professional indoor lacrosse league in North America, has partnered with XUMO, the premier LIVE and video-on-demand (VOD) over-the-top (OTT) service for the digital age, to provide smart-TV owners with free access to NLL recorded games and highlights.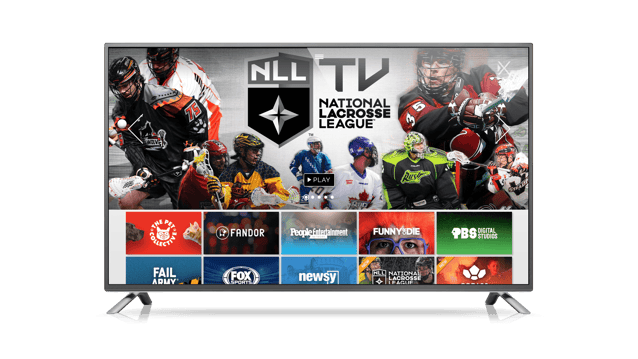 NLL content will be available via the XUMO platform through its integration on Magnavox, Panasonic, Philips, Sanyo and VIZIO smart TVs; via Roku; and on XUMO iPhone and Android apps. XUMO will aggregate videos and games from NLLTV, the League's newly-launched digital content network. Powered by Sportsrocket, a video-based management platform, NLLTV can be streamed, posted and shared through integrated online channels, including XUMO.
"We're constantly looking for new ways to offer our fans access to NLL games and highlights, and our partnership with XUMO enables us to make the NLL and box lacrosse more accessible to viewers who prefer non-traditional TV experiences," said Nick Sakiewicz, Commissioner of the National Lacrosse League. "Further building our distribution platform, this partnership complements our goal-breaking NLLTV subscription channel, broadening our reach to new audiences and attracting new fans to the sport and the League."
Currently, NLLTV subscribers can stream live games via the digital network. This partnership expands access for non-subscribers, enabling them to watch recorded games and highlights after they've aired on NLLTV.
"NLLTV is a significant addition to the XUMO channel lineup as we continue to broaden and deepen our line up of sports content," said Stefan Van Engen, SVP of content programming and acquisitions at XUMO. "Lacrosse fans, and sports fans in general can now lean back and stream high quality lacrosse highlights and full games directly from XUMO's NLLTV channel, all from the comfort of their living room or while on the go on their mobile device."
Through this partnership, NLL content will also be integrated into Channel Plus, powered exclusively by XUMO and available on webOS-enabled LG smart TVs, on channel IP-289 for LG TV owners.
To stay connected to your team, the latest scores and developments in the National Lacrosse League, please visit: https://twitter.com/NLL.
###
About the National Lacrosse League
The National Lacrosse League (NLL) is North America's premier professional indoor lacrosse league. Founded in 1986, the NLL ranks third in average attendance for pro indoor sports worldwide, behind only the NHL and NBA. The League is comprised of nine franchises across the United States and Canada: Buffalo Bandits, Calgary Roughnecks, Colorado Mammoth, Georgia Swarm, New England Black Wolves, Rochester Knighthawks, Saskatchewan Rush, Toronto Rock and Vancouver Stealth. The 2017 NLL regular season, commemorating the League's 31st year, is underway. For more information, visit NLL.com and find the NLL on Facebook, Instagram and Twitter.
About XUMO
An advanced technology company based in sunny California, XUMO seamlessly delivers over-the-top (OTT) video-on-demand (VOD) and LIVE content direct to consumers through smart TVs, mobile and set-top box applications. XUMO brings consumers premium digital and broadcast content via applications that are fully equipped with content recommendations, curated programs and dynamic ad insertion capabilities. Leveraging technological advancements through which living room devices have become both connected and aware, XUMO offers multiple ways to reach and engage with consumers within the home. Learn more about XUMO at www.xumo.com and follow @XumoTV on Twitter.