Streaming OTT Leader to Offer Popular Programs The Herd with Colin Cowherd, Skip and Shannon: Undisputed, Garbage Time with Katie Nolan, Speak for Yourself and More on Mobile and Smart TVs
IRVINE, Calif., October 19, 2016 – Football is back, the MLB post-season is in full swing, basketball is right around the corner, and XUMO, the premier live and video-on-demand over-the-top (OTT) service for the digital age, is here to give you all the latest news, highlights and hot takes with the addition of FOX Sports to the platform's expansive channel lineup. XUMO makes the announcement at NYC Television & Video Week 2016.
The FOX Sports on XUMO channel will feature a strong mix of game highlights, clips from FS1's most prominent studio shows, and FOX Sports Digital's original programs including "@TheBuzzer" all free on XUMO's smart TV platforms and mobile IOS.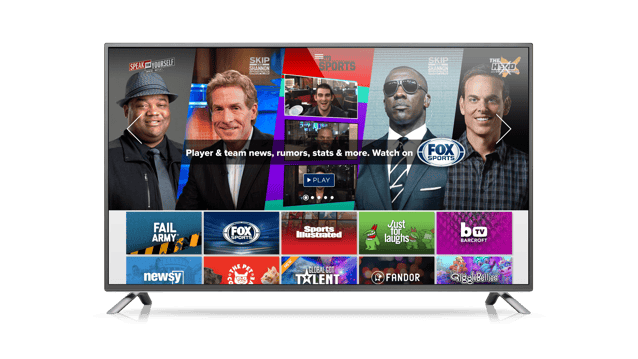 FOX Sports is the latest addition to a growing catalogue of sports programming from XUMO, which already includes premium content from Sports Illustrated, Network A, Golf Digest, GOLF, FNTSY Sports Network, Outside TV SHORTS and Field & Stream.
"XUMO is building a strong following among sports fans and the addition of FOX Sports takes the platform to the next level," said Stefan Van Engen, SVP programming and content acquisitions of XUMO. "FOX Sports is home to some of the most popular sports shows, events, experts and personalities in the country and now their fans and XUMO's fans will benefit from access to a ton of excellent sports programming on FOX Sports' XUMO channel."
XUMO is currently available on smart TVs from virtually all of today's major manufacturers, including VIZIO, Panasonic and Funai Electric Co., Ltd. who manufactures and sells Sanyo, Magnavox and Philips in North America as well as the newly released Channel Plus, exclusively powered by XUMO for LG smart TVs. XUMO is available on nearly 20 million smart TVs in the U.S., as well as all iOS-enabled devices and Roku. XUMO continues to grow its content catalogue by regularly pursuing and adding partners to its extensive provider list. To learn more about XUMO's premium content or how to become a partner, please visit http://www.xumo.com/.
# # #
About XUMO
An advanced technology company based in sunny California, XUMO seamlessly delivers over-the-top (OTT) video-on-demand (VOD) and LIVE content direct to consumers through smart TVs, mobile and set-top box applications. XUMO brings consumers premium digital and broadcast content via applications that are fully equipped with content recommendations, curated programs and dynamic ad insertion capabilities. Leveraging technological advancements through which living room devices have become both connected and aware, XUMO offers multiple ways to reach and engage with consumers within the home. Learn more about XUMO at www.xumo.com and follow @XumoTV on Twitter.
ABOUT FOX SPORTS
FOX Sports is the umbrella entity representing 21st Century Fox's wide array of multi-platform US-based sports assets. Built with brands capable of reaching more than 100 million viewers in a single weekend, FOX Sports includes ownership and interests in linear television networks, digital and mobile programming, broadband platforms, multiple web sites, joint-venture businesses and several licensing partnerships. FOX Sports includes the sports television arm of the FOX Broadcasting Company; FS1, FS2; FOX Sports Regional Networks, their affiliated regional web sites and national programming; FOX Soccer Plus; FOX Deportes and FOX College Sports. FOX Sports also encompasses FOX Sports Digital, which includes FOXSports.com, FOX Sports GO, Whatifsports.com and Yardbarker.com. Also included in the Group are FOX's interests in joint-venture businesses Big Ten Network and BTN 2Go, as well as a licensing agreement that establish the FOX Sports Radio Network.