First channel on XUMO to broadcast live daily shows
IRVINE, Calif., February 7, 2017 —XUMO, the premier live and video-on-demand (VOD) over-the-top (OTT) service for the digital age, announced today the launch of Cheddar, the popular live and on demand network, on its service. The first network on XUMO to have live daily shows, Cheddar will air its programs from the New York Stock Exchange and Sprint Flatiron Building Store each weekday along with one hour of interviews.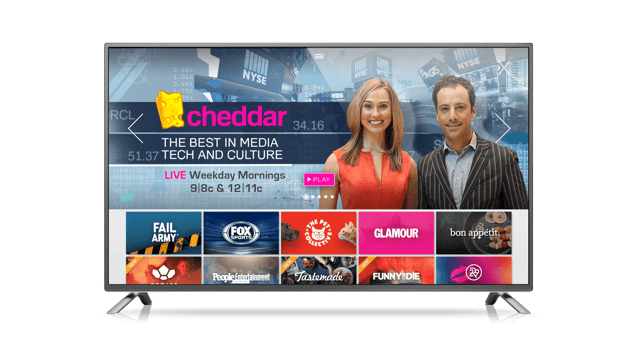 "We're focused on broadcasting live business news. XUMO offers a unique opportunity for us, due to their native integrations with brands such as LG Electronics, VIZIO, Panasonic and now Hisense, " said Jon Steinberg, CEO of Cheddar. "XUMO is one of the first to provide a TV guide that displays OTT content not only in a linear format but also alongside over-the-antenna, local, broadcast channels as they've done in powering Channel Plus for webOS 3.0-enabled LG smart TVs. Our content is built for the lean-back experience XUMO offers so this partnership aligns perfectly to deliver premium streams easily and simply to our growing fan base."
XUMO offers over 70 premium, digital channels and is available for free on more than 60 percent of smart TVs shipped domestically, totaling more than 20 million devices to date. XUMO can be accessed on Funai Electric Co., Ltd. who manufactures and sells Magnavox, Philips and Sanyo in North America, Channel Plus, exclusively powered by XUMO for LG Electronics, Samsung and VIZIO. A virtual input for streaming TV, exclusively powered by XUMO for Hisense, was announced at CES 2017.
"XUMO caters to the generation that places a value on where, how and when they consume their news. Partnering with Cheddar means our audience can now rely on XUMO for quality LIVE and on-demand business, technology and media programming from some of today's most trusted hosts," said Stefan Van Engen, SVP content programming and acquisitions of XUMO. "Cheddar gives our audience their news fix about the topics they actually care about and follow on a daily basis."
Cheddar's live programming on XUMO consists of:
Opening Bell (9-10am ET): Start your day off with the latest business and media stories of the day, live from the New York Stock Exchange.
Between Bells (12-1pm ET): Live from the Flatiron Building, we're bringing you the most up-to-date tech and biz news.
Cheddar has been visited by a wide range of high profile guests including Ford CEO Mark Fields, will.i.am, CBS Chairman and CEO Les Moonves, incoming Starbucks CEO Kevin Johnson, Twitter CFO Anthony Noto, presidential candidate Gary Johnson, Akon, Zillow CEO Spencer Rascoff, Twitch co-founder Justin Kan, Twilio CEO Jeff Lawson, and Shake Shack CEO Randy Garutti. It also had execs from a wide range of startups, including Atlassian, DraftKings, Juicero, HelloFresh, Lyft, and Evernote.
###
About XUMO
An advanced technology company based in sunny California, XUMO seamlessly delivers over-the-top (OTT) video-on-demand (VOD) and LIVE content direct to consumers through smart TVs, mobile and set-top box applications. XUMO brings consumers premium digital and broadcast content via applications that are fully equipped with content recommendations, curated programs and dynamic ad insertion capabilities. Leveraging technological advancements through which living room devices have become both connected and aware, XUMO offers multiple ways to reach and engage with consumers within the home. Learn more about XUMO at www.xumo.com and follow @XumoTV on Twitter.
About Cheddar
Cheddar is a live video news network focused on covering the most innovative products, technologies, and services transforming our lives. The network covers this news through the lens of the companies and executives driving these changes. Cheddar broadcasts from Post 10 on the floor of the New York Stock Exchange and the Sprint Flatiron Building Store. It is available on Sling TV, Amazon, Vimeo and Twitter. The company was founded by Jon Steinberg, President and Chief Operating Officer of BuzzFeed from 2010 to 2014. Its investors include Lightspeed Venture Partners, Comcast Ventures, Ribbit Capital, and Homebrew.