This week on the Junk Food Blog, we bring you a bromance for the ages, psychic predictions of 2020 campaign messaging mixed with a nice horror movie homage, a guide to the inauguration and early days of the Trump presidency…and the funniest darn dog and cat videos 2017 has to offer (all two weeks of it!). And now we've just saved you 45 minutes of searching for something to watch on your TV guide, Netflix, Hulu, HBO Go and whatever else you have lumped into your home TV entertainment bill this month—because this stuff is all free right here on XUMO. You can use that time to start learning a foreign language, begin tax season prep, get a workout in to work off some of that holiday weight (stupid Santa sugar cookies with the icing and sprinkles on top!), or you could just watch some more funny animal tug of war videos on The Pet Collective—yeah, we're not opting for the workout, either. Enjoy the dog on dog tug of war!
WATCH: President Trump Bids Farewell to Obamas
There have been a lot of unanswered questions floating around such as, "Will President Trump take a different tone than President-Elect Trump once sworn in? Will he get rid of NATO? Who exactly are these people he's filling his cabinet with?" But, before we find out answers to any of these questions, watch President Trump bid farewell to the former first family, the Obamas. Watch here on the Bloomberg Politics channel on XUMO.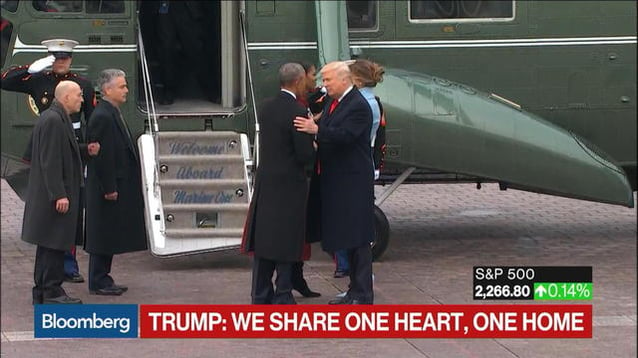 WATCH: Donald Trump Reveals 2020 Campaign Slogan
Yes, you read that right. President Donald Trump has already locked in a campaign slogan for the next election cycle and he's already telling people how great it will be. The slogan is, "Keep America Great!" and you've got to admire (or be confused by) the confidence of a man revealing that he plans to campaign based on the success he hasn't yet had. It's an interesting time in politics and Veuer has coverage of the new campaign slogan—years ahead of its time—here on XUMO. Oh, and by the way, if you're thinking, "You know, I really think I've heard that slogan before!" You have. It's from The Purge: Election Year—you know, the less than stellar sequel to The Purge, a horror film about a dystopian United States here the strong and the rich murder the poor and the weak one night a year just to get it out of their system. I'm not sure the films are meant to be aspirational but, hey, to each their own.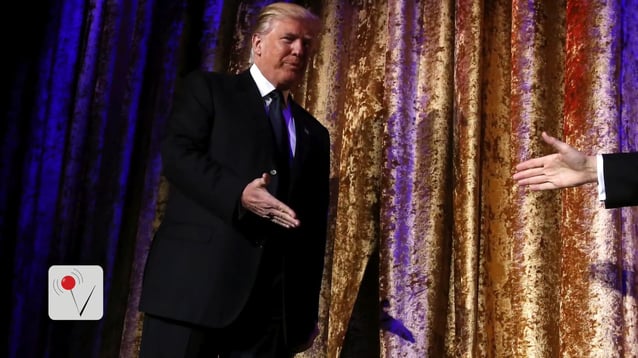 WATCH: Joe Biden's Top 10 Moments
Let's see here, so this week we have the inauguration of a new president who just about everyone has strong feelings about one way or the other, the exit of a president with some of the highest outgoing approval numbers in the past 40 years, the NFL conference championship games, the announced return of Will & Grace…and all we can focus on is the nostalgia of all the good times with Vice President Joe Biden. From his bromance with President Obama, to his aviator shades, to his use of the word "malarkey," he will be missed by many across the political spectrum. Feeling nostalgic for Joe? Check out some of his top moments on Vanity Fair's XUMO channel here.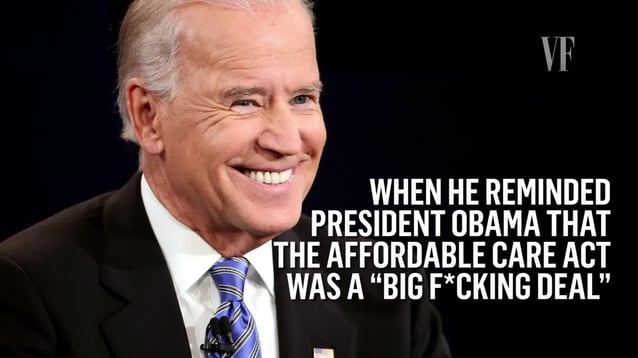 It's been a busy week, so here's something to make you smile.
WATCH: 14 Funny Pet Videos 2017
There are A LOT of serious issues taking center stage this week and we at XUMO need a break. That's why we're running this new 2017 compilation of funny pet videos around the offices—why be up to date on the latest political news when you can watch a dog try to figure out how to deal with a lemon or a cat claim a laptop as her domain. So, take a break from the troubles of the real world and enjoy the struggles of a cute husky trying to catch a miniature racecar flying around the track on The Pet Collective's XUMO channel!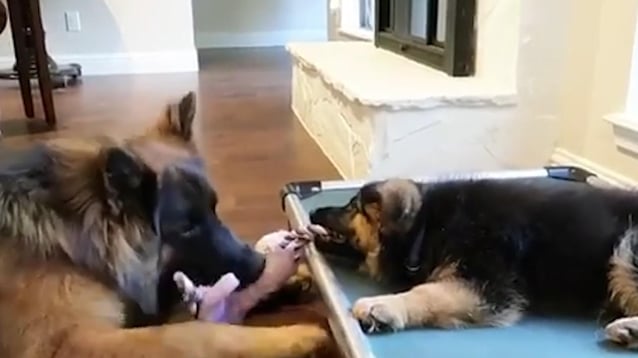 Come back next week—same time—for next week's specials!
In the meantime, here's where you can find XUMO.