This week on the Junk Food Blog, it's post-Oscar's pandemonium. La La Land got screwed, or Moonlight got screwed, or Warren Beatty got screwed? We're so confused! Plus, Jimmy Kimmel takes up conducting to ensure Matt Damon knows he's not welcome, blue is totally the new fashion trend on the red carpet and the Oscars mistake no one is talking about—but should! It's all here on this week's edition of the Junk Food Blog—WTF just happened at the Oscar's edition!
WATCH: La La Land / Moonlight Debacle
Sooo that happened. Is it just me or are there a million and five questions in your head, too, as to what exactly went on here? Why were there two envelopes? Did they have both of them onstage? Why did we only see Bonnie and Clyde with one envelope when they walked out? Why did Warren Beatty decide it was okay to hijack even more of Moonlight's time by going back on to explain what happened (and thereby opening this up to a thousand new questions)? Who was that guy who noticed and where exactly did he get the correct card from? So many questions! We don't have the answers…yet! But, we do have some great reaction backstage as everyone tried to make sense of what they were seeing right along with all of us at home. You can check the clip out right here on the Reuters XUMO channel.
WATCH: Kimmel Plays Off Matt Damon
Whether he was in on this particular joke or not, we can't say. One thing we can say for the record, however, is that Matt Damon is a national treasure and his reaction to Jimmy Kimmel literally trying to drown him out and play him off the stage while he attempted to deliver the nominees for who knows what category during the Oscar's last night was perfect. He seemed flummoxed, flabbergasted, and, ultimately, defeated as he mercifully threw it to the video montage. The most underrated funny part of this whole exchange—Ben Affleck, who stood there trying not to burst out laughing at his buddy who was clearly not going to win this battle in the epic, unending beef/bromance between Matt Damon and Jimmy Kimmel. Watch Matt Damon fight the good fight on the TIME XUMO channel here.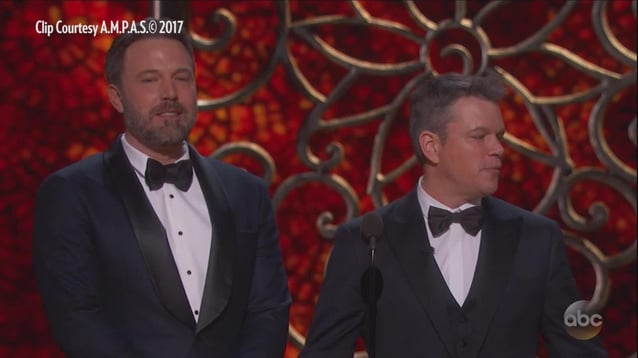 WATCH: Red Carpet Was Full of Blue This Year
The biggest style trend emerging from the Oscars this year? There were some beautiful gowns, accessories and hair styles, but it's hard to argue against the sea of blue seen on the red carpet and throughout the evening. Hollywood made a clear statement in advocating for the American Civil Liberties Union (ACLU) with a united show of blue appreciation (with many sporting blue ribbons). It was a show of unity as the ACLU is a nonpartisan group, which works to defend and preserve the individual rights and liberties guaranteed by the Constitution and laws of the United States. On a night where there was no way to avoid the elevated level of discontent and animosity between political parties, support for the ACLU was a great way to acknowledge the problems of the world without becoming divisive. Check out Newsy's coverage right here on XUMO.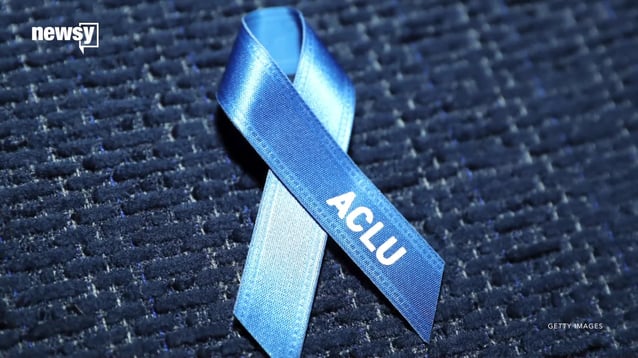 Want to be that really annoying person in any discussion of the big Oscars mishap last night? When anyone starts talking about the huge blunder during the show and how they couldn't believe what they were seeing, begin nodding your head violently in agreement as you tell them how your jaw hit the floor when they put up Australian producer Jan Chapman's photo in place of costume designer Janet Patterson's name during the in-memorium segment. It was a game changer and you knew it would be all over the news the next day. Don't expect anyone you try this on to return your calls or invite you to lunch again if you try this, but if you like being a pest—or just want to make sure Janet Patterson gets her due—feel free to give it a shot and let us know how it goes. First, do your research by watching this clip on the Veuer channel on XUMO.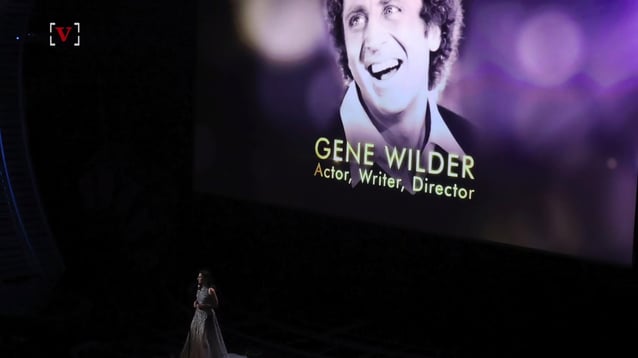 Come back next week—same time—for next week's specials!
In the meantime, here's where you can find XUMO.