Comedy Seekers Can Now Stream the FailArmy Channel, the World's Number One Source for "Fails," on Their TVs
This announcement also appeared on Multichannel News and Yahoo! Finance.
IRVINE, CA--Web comedy giant FailArmy, which boasts more than 17 million fans across YouTube and social media, is now viewable on over nine million televisions by way of XUMO, the premium television and video-on-demand over-the-top (OTT) service for the digital age. The newly cemented partnership between FailArmy (which is owned and operated by Jukin Media) and XUMO allows for instant access to FailArmy's well-known and much-loved fail videos and compilations.
"XUMO delivers unique, entertaining digital content that is conveniently accessible and we're pleased to add FailArmy to the mix," said Colin Petrie-Norris, CEO of XUMO. "We're redefining what it means to be a television channel -- and our rapidly growing audience is falling in love with the fresh fails delivered to them via the largest screen in the home."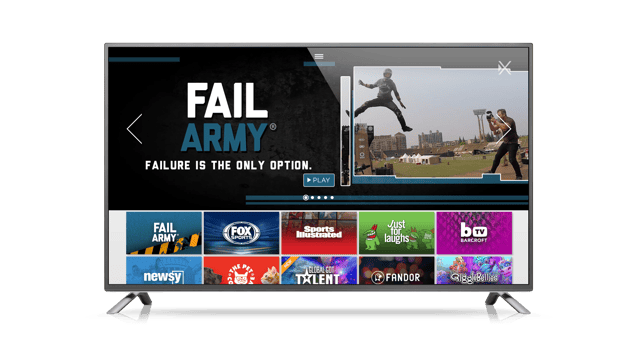 FailArmy's video content consists of user-generated and submitted videos featuring real-life "fails," that are compiled into short videos such as "Fails of the Week," "Workout Fails," or "Best Fails of 2015." FailArmy receives more than 400 million views per month across digital platforms.
"XUMO gives FailArmy's 17+ million fans an easy way to access all their favorite FailArmy content, right on their TVs," said Cameron Saless, Chief Growth Officer for Jukin Media. "The partnership also allows FailArmy to get in front of the millions of XUMO users who may not otherwise come in contact with the brand."
The XUMO platform is available on smart TVs from major manufacturers like VIZIO, LG, Panasonic and delivers live and video-on-demand from more than 50 different content providers. To learn more about how XUMO delivers premium content from providers like FailArmy, or to learn how to become a content partner, please visit http://www.xumo.com/.