Xumo Unveils Channel Plus as Native OTT Solution on 2016 LG Smart TVs With webOS 3.0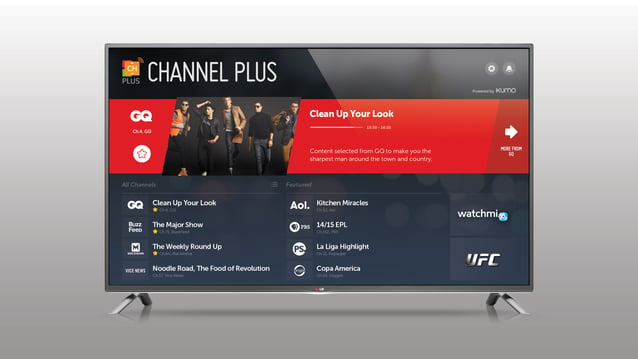 Originally appeared on Reuters.
Xumo LLC, innovative solutions provider for connected devices, today announced a groundbreaking alliance with consumer electronics giant LG Electronics to integrate Xumo's Channel Plus solution into LG's 2016 webOS 3.0 smart TVs, offering U.S. consumers a unique seamless streaming experience for premium digital and broadcast networks.
"We have spent considerable time identifying and building our lineup of content so we are able to offer LG Smart TV users free access to the shows, brands and creators they want to watch, and can't always find on cable TV," said Colin Petrie-Norris, CEO of Xumo. "We are beyond thrilled to partner with LG in announcing Channel Plus as it further supports our mission to make TV fun, accessible, exciting and available to consumers on their terms -- not ours."
Designed to deliver an unprecedented "lean back" experience on big-screen smart TVs, Channel Plus is a solution natively integrated into LG's webOS 3.0 Smart TV platform available on 2016 LG Smart TVs that provides users free access to programming across multiple content delivery options, including popular digital and broadcast networks, through a single, easy-to-use portal.
Exclusively powered by Xumo, 2016 LG Smart TV users will now have one-click access to a rapidly expanding line-up of premium digital content partners, including but not limited to: Bloomberg Politics, Bonnier, Time Inc., The Wall Street Journal, BuzzFeed, PopSugar, TYT Network, Machinima and Mode Media.
Xumo brings a fresh, new approach to connecting viewers directly with content owners and distributors without the need to build and support an application. Xumo can broadcast live over IP simulcast channels, create live channels from VOD assets and provides an integrated monetization engine to power the economics for content partners, as well as offers them more reach to high quality viewers.
Powerful content discovery is enabled through smart data use and an innovative user interface design. By bringing the best digital content to the big screen, mobile devices and desktop, Xumo is reinventing the way digital content is consumed by removing the clutter to provide today's viewers with a more seamless and enjoyable viewing experience.
"Since its introduction in 2014, LG webOS has been praised for providing an exceptional Smart TV user experience with more intuitive and fast navigation of the TV's features," said David VanderWaal, vice president of marketing, LG Electronics USA. "With more content options delivered by our partners like Xumo combined with LG's simple, fast smart TV experience powered by our new webOS 3.0 Smart TV platform and leading picture quality, LG offers consumers the best possible home entertainment experience."
The webOS 3.0 platform for 2016 is the latest generation of LG's acclaimed Smart TV technology featuring an intuitive interface that's both simple and fast allowing users to spend more time enjoying the content they want to watch.
Channel Plus, powered by Xumo, will be demonstrated on LG Smart TVs with webOS unveiled at CES® 2016, Jan. 6-9, in Las Vegas. Through a number of partnerships including mobile and desktop content availability, also to be announced at CES, Xumo will be available on over 20 million smart devices by the first quarter of 2016.
About Xumo
An advanced technology company based in sunny California, Xumo seamlessly delivers over-the-top (OTT) and video-on-demand (VOD) content directly to consumers through smart TV, mobile and desktop applications. Xumo brings consumers premium digital and broadcast content via applications that are fully equipped with content recommendations, curated programs and dynamic ad insertion capabilities. Leveraging technological advancements through which living room devices have become both connected and aware, Xumo offers multiple ways to reach and engage with consumers within the home. Learn more about Xumo at www.xumo.com and follow @XumoTV on Twitter.