More Manufacturers Join the Lineup, Dramatically Increasing XUMO's Over-the-Top Distribution Numbers
This release originally appeared on Reuters.
Continuing to deliver premium, captivating and entertaining content to the broadest range of smart TV viewers, XUMO announces market-leading distribution across smart TVs after pioneering best-in-class native integrations with top manufacturers in the US. XUMO has announced its rapidly expanding distribution now includes Magnavox, Philips, and Sanyo TV brands manufactured and sold by Funai Electric Co., Ltd in North America, as well as LG Electronics, Panasonic and VIZIO. XUMO made this announcement at the Digital Content NewFronts Conference in New York where the company will be giving demonstrations at Gotham Hall on May 5, 2016.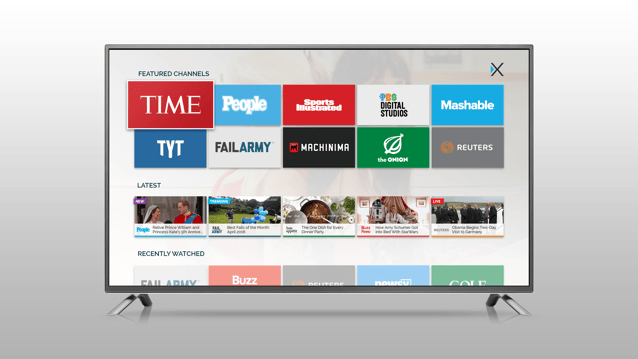 Channel Plus, exclusively powered by XUMO, will be natively integrated into LG's expansive line of 2016 Smart TVs featuring the company's webOS 3.0 Smart TV platform, including LG OLED and LG Super UHD TVs. This native integration will provide viewers—and fans of quality programming in general—free access to the extensive roster of premier Internet and broadcast channels in a linear format for both live and on-demand programming. Channel Plus is scheduled to launch on LG Smart TVs in the U.S. this summer.
XUMO's distribution and reach is unprecedented for an OTT service provider. The reach of these manufacturer partners together approaches 60 percent of smart TVs shipped in the US. Particularly as a result of its native integrations, viewers have one-click access to XUMO's line-up of nearly 80 free premium Internet channels from brands like Mashable, Field & Stream, Network A, Fandor and more, directly from their TV remote—no cords, boxes, or hassle required. The full lineup of new channels will also be announced at NewFronts.
"Adding distribution with Philips, Magnavox, and Sanyo TV brands is especially exciting as it allows our content partners to stream their content to even more fans in high definition—or better—on the biggest, most impactful screen in the home," said Colin Petrie-Norris, CEO of XUMO. "Combining this distribution with the advantages of not needing to build an app, along with our promotional and targeting abilities, makes XUMO a compelling partner for digital and video-first publishers."
XUMO's integration with the latest smart TVs from these manufacturers is further evidence of the platform's gathering momentum and increasing popularity with viewers looking for premium video content. To learn more about XUMO or how to become a partner, please visit http://www.xumo.com/.